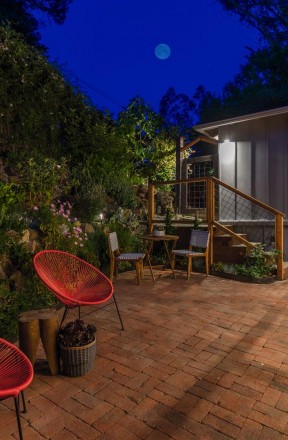 Where Living is Easy
3+ Beds
•

2 Baths

•

1,683 SF

•

6,466 SF Lot

•

$845,000

30 Saroni Court, Oakland, California

As you gently ascend the wide, easy roads you are smoothly transported from vibrant Montclair Village to this verdant, sun speckled hide-a-way on Saroni Court, a true hidden gem of Montclair. Greenery lines your path home and lulls you with its lush serenity. There's no escaping the feeling of being on a permanent holiday when 30 Saroni Court is your home.
This special property is primed with designer details and a modern aesthetic to support and highlight the home's effortless beauty. An easy, open floor plan on the main level facilitates picture perfect views of the private front patio's marvelously mature, landscape architect-designed garden or the tree-framed, peek-a-boo bay view off the deck. Perched on the private back deck or entertaining al fresco on the front patio, you'll forget that you're only a few minutes from shopping, restaurants, and commute routes.
No matter your stage of life, this home has you covered. With a bedroom and bath on the main level, primarily single-level living is an easy accomplishment. But with two bedrooms, the second generous full bath, and extra space for a home office or hang out space, the lower level is a retreat in itself affording your lifestyle room to grow. Each step you take descending the soft, newly carpeted steps sheds a layer of stress from the day as you're taken deeper into the sumptuous sanctuary.
Throughout the home the attention to detail is readily apparent from the adjustable shelving in the large, open living room, to the walnut details surrounding the kitchen -- even the doorknob and interior shelving in the floor to ceiling pantry echoes the thoughtful walnut detailing. The attention to detail is not just in aesthetics, this practical home is replete with functionality.
The updated kitchen is ready for you to try out any of the recipes from your favorite cookbooks. This kitchen has all the cabinets and counter space you'll need to be successful in all your cooking and entertaining escapades. Hosting a small party, or a larger soirée will feel as effortless as the flow of your guests as they mingle between the inviting outdoor spaces, or hover in the dining room as you put the final touches on the food and drinks.
Everything is right and easy at 30 Saroni Court. Life is simple and straightforward when you feel like you're returning to vacation whenever you go home.
The Restoration Hardware bathrooms have been recently remodeled with designer tiles from import tile, omega lighting, and polished nickel fixtures.
The lower level has been newly carpeted
The repurposed garage offers both storage and a finished space to host your workshop or art studio. The laundry area is combined here as well for 1st floor convenience
Refinished hardwood floors
Chef's kitchen with room to work
Entertainer's dream with easy indoor-outdoor flow and ideal division of space
Solid and secure with designer details without sacrificing functionality. It doesn't get better than this.
About Montclair
Tucked away in the wooded hills and winding streets above Oakland, Montclair is a small community with an appealing central shopping district. Sizable custom homes, along with a mix of Mediterranean, Craftsman, and contemporary-style homes are situated on forested lots, offering an elegant retreat from the city.
Montclair Village is a throwback to a simpler time before strip malls, megamalls, and big-box stores. Residents can find everything they need, from dry cleaning and groceries to restaurants and boutique shops. Local restaurant favorites include the Montclair Egg Shop, Flipper's Gourmet Burgers, Crogan's Montclair Restaurant, and new addition, Daughter Thai. Gourmet specialty items are available at Le Bonbon, and Farmstead Wine and Cheese. A farmers market on Sundays provides fresh local produce and baked goods. Montclair is home to fine-arts festivals throughout the year and a jazz festival in the late summer that enlivens the street scene.
A short drive down the hill will have you arrive at Rockridge BART in minutes for an easy commute to San Francisco for work or play.
Montclair offers the best of both worlds. Continue up to Skyline Boulevard and you're around the bend from Sibley, Skyline Gate entrance to Redwood Regional Park, and Huckleberry. If you're in the mood, an easy 1.5 mile walk (or bike ride) from the Shepherd Canyon Road trail head of the Railroad Trail will bring you right into Montclair Village.
30 Saroni Court - Story of the House
What is the history of your home?
Built in the 1950's, by a couple who raised their daughter here, it was the first house on the court! We are only the second owners. Most neighbors have lived on the court for a long time, and were friends with the previous owners, so we have been able to hear a lot about the evolution of the house and neighborhood.
What do you love about it?
There is so much to love about the house. We really wanted to escape the frenetic energy of the city, yet be close to everything. It really is an urban oasis. You just automatically relax as soon as you step in the courtyard. The air smells good, it's so quiet and peaceful, every window is beautiful to look out of, it feels very private - you don't see any other houses or cars or streets from the windows, just trees and sky. There is plenty of room to entertain, host guests, work on projects, or enjoy some private time and just sip a cup of tea alone.
Why did you buy it?
Our children were going to preschool in the neighborhood, and we fell in love with it. We were living by the lake, and it just wasn't the right fit for our family. We wanted easy access to nature and a peaceful place where we could gather as a family.
Where is the best window?
Seriously, every window in the home is amazing! Lying in bed and looking out at all of the beautiful trees is such a delightful way to start the day. Anytime I was feeling stressed, I would sit on the deck and look out into that expanse, and I would immediately feel at ease, like all was right with the world. I feel like that is something really missed living in the city, being able to see the horizon. It's such a special feature of the house.
Which room is your favorite?
It's a hard draw. The kitchen is super functional, with plenty of storage, space, attention to detail and great views. It's a wonderful place to entertain and share a meal. The living room is spacious, modern, elegant, and the huge window frames the front garden so nicely. It's a great place to be any time of day. It has such a good indoor outdoor flow, it's almost like living in a tree house! We have really tried to incorporate the strong yet warm woodsy feeling of the natural surroundings in the interior, it really creates the feeling of balance and well-being in the home.
What little details do you treasure?
All of the beautiful custom wood and metal work! It's so rich and crafted so beautifully, it really brings the house together.
What will you remember?
The first time our pre-teen kids walked all the way to the village on the bike trail on their own to get crepes at the Farmer's Market on Sunday, and then to the local bookstore to read books and eat cookies the shopkeeper puts out for the kids.   All of the holiday's celebrated. All the love we poured into remodeling the home and how our vision really came to fruition. We feel like we honored the home. 
What will you miss about it?
Each season has it's own sound, the creaking of the Eucalyptus in the winter, the Great Horned Owls calling to their mate in the spring, the lively sound of people barbecuing and entertaining in the summer, the rustling of fallen leaves in the fall. The marking of time that is so site specific.
This home really grew us up as a family. It nurtured our children into becoming adolescents and nudged us further into adulthood as parents and professionals. Friendships have been made and cared for, careers developed, lives defined.
Why is this a good place to live?
It's safe and relaxed, with a strong, but not intrusive sense of community. The ease and tranquility that the simplicity of the space has allowed for, has made it so we are better able to grow to meet life's challenges and evolve as human beings. Its beautiful, and functional. Its spacious and private. It's comfortable and modern. It's a great house that has been lovingly remodeled and updated. It truly is a forest getaway right in the city.
For the Gardener Lover in You...
Trees and Shrubs

Fig Tree
Meyer Lemon Tree
Mock Orange Tree
Jacaranda Mimosifolia Tree
Pomegranate
Cramp Bark
Wild Rose
Glory Bush
Vines
Creeping Fig
Passion Vine
Jasmine
Honeysuckle
Herbs
Rosemary
Oregano
Thyme
Mint
Nettles
Lemon Balm
Lavender
Ornamentals
Lambs Ear
Salvias
Black Phormium
Variegated Phormium
Blue Festuca Grass
Heucheras
Blazing Star
Various Euphorbias
Various Succulents
Rose
Iris

Pattie Holm
Realtor
Lic#01433147
510.915.4644
holmpattie@gmail.com
PattieHolm.com
DISCLAIMER:
The above information including square footage is based on data received from the seller and/or from public sources. This information is deemed reliable but has not been independently verified and cannot be guaranteed.